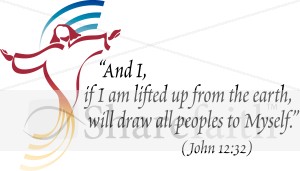 John 12:29-33
The crowd standing there heard it and said that it was thunder. Others said, 'An angel has spoken to him.' Jesus answered, 'This voice has come for your sake, not for mine. Now is the judgment of this world; now the ruler of this world will be driven out. And I, when I am lifted up from the earth, will draw all people to myself.' He said this to indicate the kind of death he was to die.
Reflection
Here's the heart of the message for this, the fifth Sunday in Lent.
There is no way to Easter by detour. We cannot avoid the cross. It is heart wrenching and heartbreaking, and Jesus' message makes one point: he has come for us and will draw all people to himself. Jesus life is not his own, but as one author points out, humanity is his own, and we abide in his life. Can we hang in there with Jesus?
Prayer
You ask a lot, and you offer a lot, O God. We are not worthy, but your love empowers us in countless ways. Help us to to be faithful to you and to your Son. Amen.